Kitsap County
"A blast from the past"
The Kitsap County Historical Society Museum is alive and well in Downtown Bremerton.
The newly renovated space is full of detailed exhibits of Kitsap County's past. From the early logging camps to the bustling metropolis of Bremerton.
On the second floor of the museum is an antique clock collection that has to be seen to be believed. Over 100 clocks of all shapes and sizes are on display.
The exhibit was designed and installed by Ernie Lopez, Curator, West Coast Clock and Watch Museum. Clock restoration services were provided by Leon Jaussaud and Ernie Lopez.
Click on the links below to take a virtual tour of just a few of the exhibits at the museum.
Museum Main Floor 1 (376kb)
Museum Main floor 2 (625kb)
Clock Museum Exhibit 1 (491kb)
Clock Museum Exhibit 2 (595kb)
If the QuickTime virtual scenes do not play properly you can download the browser plug-in here.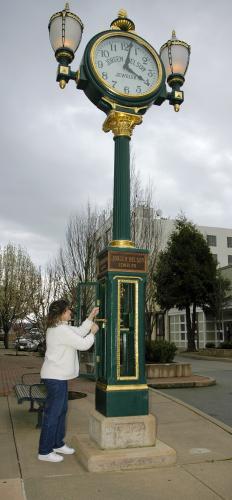 The Jorgen Nelson Clock was originally installed at 131 Pacific Ave. It is now in front of the Kitsap History Museum.
It must be wound by hand about once a week.